From: Texas Real Estate Business Magazine
By Ryan Epstein, senior managing director, Berkadia
July 28, 2017
Houston's multifamily market appears to be on the verge of recovery after facing considerable headwinds in 2016. Job growth, population growth and faster-than-anticipated apartment absorption in the first half of 2017 are luring investors and lenders back to the region, putting the market on solid footing for future growth.
To better understand how we arrived here and to grasp near-term expectations, let's take a brief look back.
The collapse in energy prices and the ensuing job losses of 2015 and 2016 dealt a considerable blow to the overall Houston economy, particularly the multifamily sector. Developers had already started construction on thousands of new units in 2014 and 2015. In 2016 alone, multifamily development had delivered 21,791 new units — a 20-year high.
This left a tremendous oversupply of inventory to be absorbed during a period of anemic job growth – only 15,000 new jobs were created in 2016. Supply-side pressure shifted vacancies up and rents down, while investment sales volume dropped dramatically.
Today, the picture is quite different. Overall economic fundamentals are steadily improving, taking the multifamily sector along with them. While the energy sector is still in a period of retrenchment, sectors such as education, health services and hospitality/leisure are adding jobs.
According to the Bureau of Labor Statistics, Houston added almost 42,000 new jobs between April of 2015 and 2016 for a growth rate of 1.4 percent. Population is also rising; the U.S. Census Bureau recently named Harris County one of the fastest-growing areas in the country.
Apartment demand is returning. Absorption in the Houston metropolitan area surged in 2017; residents moved into 4,916 new units during the first quarter — greater unit absorption than the entirety of 2016.
Occupancy remains at 88.3 percent, based on Berkadia's first-quarter numbers. While rent concessions continue to abound, Houston may well turn a corner by year's end. This absorption of new units should translate into landlords regaining some pricing power.
Traffic has already increased in submarkets like Katy and the Energy Corridor — two areas hard hit during the oil slump — while rental demand remains strong in submarkets such as Westpark/Bissonnet.
In the city proper, many renters seek to be in amenity-rich urban areas. Consequently, grocery-anchored multifamily developments, such as Midway's project in Buffalo Bayou Park and Morgan Group's project in Midtown, are generating extraordinary interest.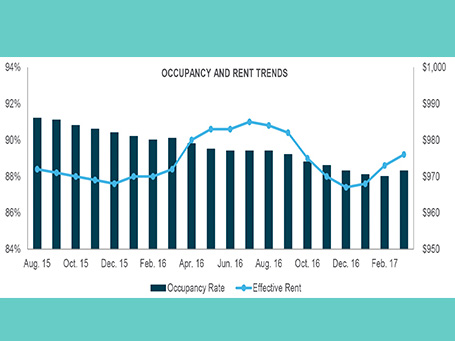 These dynamics are luring old investors and lenders back to the Houston market and attracting new ones.
A slim pipeline of future development also makes Houston particularly attractive. There are only 15,000 units anticipated for delivery this year, with very few coming on line after that. Relative to comparable markets like Dallas or Atlanta, which have full pipelines for the foreseeable future, Houston is poised to generate a tremendous return for current investors.
As the oil industry bounces back and few multifamily properties are delivered over the next couple of years, we expect absorption to increase significantly and for rents to follow suit. Investors currently have the opportunity to acquire quality assets in a major metropolitan area at normalized cap rates on temporarily depressed rents.
Capital has also found its way back to the Bayou City, with Fannie Mae and Freddie Mac having become extremely active. Even more significant is the emergence of new sources of equity, which had never considered Houston before and were not active during the last 18 months.
In summary, Houston is poised for growth as the economy continues to diversify and expand and a new wave of shale oil exploration begins. The general tenor among the lending community is that Houston is on the rebound, resulting in significant availability of capital. With limited development on the horizon, Houston's multifamily real estate market is positioned to return to healthy rent growth of at least 2 percent across the metro over the next 12 months.
— By Ryan Epstein, senior managing director, Berkadia. This article first appeared in the July 2017 issue of Texas Real Estate Business magazine. 
To read full article visit: http://rebusinessonline.com/after-period-of-correction-houston-multifamily-market-poised-for-recovery/
For more information on 1031 DST and 1031 TIC Exchanges and Investments contact Corcapa 1031 Advisors  (949) 722-1031 or complete the contact form below.