From Website: Marcus Millchap
March 2017

Homeownership Rate Falls to 12-Year Low; Young Households Favor Apartments
Low inventory is restraining sales of existing single-family homes, which rose in January by just 3.7 percent from last year. Despite an uptick in listings, the supply of available homes for sale held firm at a record-low 3.6 months. Healthy demand for homes lifted the median price 7.3 percent year over year to $230,400. Increased inventory could help alleviate some pressure, boosting sales activity and moderating home price appreciation.
The homeownership rate fell for a 12th consecutive year in 2016, resting at 63.7 percent in December and declining 550 basis points from its peak. Among those under age 35, the prime renter cohort, the rate fell to 34.5 percent, down from a high of 43.1 percent in 2004. Young households' increased propensity to rent fuels apartment demand, and the absorption of 294,100 units in 2016 was the fourth highest year on record.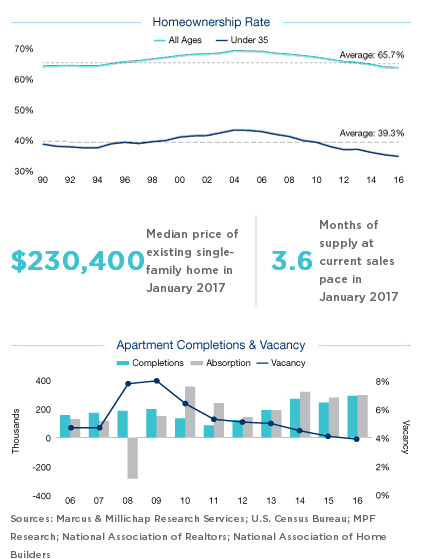 View full article:
https://blog.marcusmillichap.com/2017/03/06/homeownership-rate-falls-to-12-year-low-young-households-favor-apartments/
For more information on 1031 Exchange Replacment Properties in the form of Delaware Statutory Trusts contact Corcapa 1031 Advisors  (949) 722-1031 or complete the contact form below.