From: GlobeSt.com
Date: January 10, 2019
By: Erika Morphy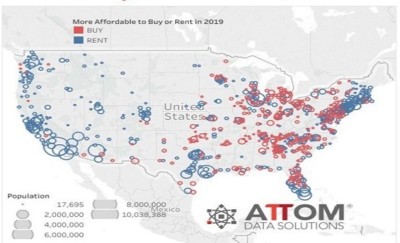 US homeownership has been on the decline since the Great Recession for many reasons including new lifestyle preferences and increasingly, affordability. A new report by ATTOM Data Solution highlights the latter, making it ever more clear that we are indeed becoming a renter nation. It has found that renting a three-bedroom property is more affordable than buying a median-priced home in 442 of 755, or 59%, of US counties analyzed, according to its newly-released 2019 Rental Affordability Report.
Jennifer von Pohlmann, director of content and PR at ATTOM Data Solutions, explains the reason why: "With home price appreciation increasing annually at an average of 6.7% in those counties analyzed for this report and rental rates increasing an average of 3.5%, coupled with the fact that home prices are outpacing wages in 80% of the counties, renting a home is clearly becoming the more attractive option in this volatile housing market."
The analysis incorporated recently released fair market rent data for 2019 from the US Department of Housing and Urban Development, wage data from the Bureau of Labor Statistics and public record sales deed data.
Where the Renters Are
Renting is more affordable than buying a home in the nation's 18 most populated counties and in 37 of 40 counties with a population of 1 million or more. These areas include Los Angeles County, CA; Cook County in Chicago; Harris County in Houston; Maricopa County in Phoenix; and San Diego County.
Other markets with a population of more than 1 million where it is more affordable to rent than to buy a home included counties in Miami, New York City, Seattle, Las Vegas, San Jose, San Francisco and Boston.
The most affordable markets for renting are Roane County in the Knoxville area of Tennessee at 19.7% of average wages to rent; Peoria County, IL at 23.8%; Mcminn County, TN at 23.8%; Green County, OH at 24.2%; and Rhea County, OH 24.6%.
Among counties with a population of 1 million or more, those most affordable for renting are Allegheny County (Pittsburgh), PA at 25.1%; Cuyahoga County (Cleveland), OH 25.6%; Saint Louis County, MO (26.4%); Oakland County (Detroit area), MI (26.7%); and Wayne County (Detroit), MI (27.7%).
Where the Home Buyers Are
Among the 40 US counties analyzed in the report with a population of 1 million or more, the three where it is more affordable to buy a home than rent were Wayne County in Detroit; Philadelphia County and Cuyahoga County in Cleveland, Ohio.
The least affordable markets for renting are Santa Cruz County in California, with 81.7% of average wages to rent; Honolulu County in Hawaii, with 74.4%; Spotsylvania County in Virginia at 73%; Maui County, Hawaii at 69.5%; San Benito County, CA at 68.6%; Monroe County, FL at 67.3%; Sonoma County, CA at 66%; Marin County in the San Francisco area at 65.6%; and Kings County, NY 63.7%.
Read Full Article: https://www.globest.com/2019/01/10/another-sign-we-have-become-a-renter-nation/
Contact Us for More Information