Your 1031 Exchange Replacement Property Company for 1031 DST and TIC Investments
If you are looking to create tax sheltered income and long term growth through real estate ownership in the form of 1031 DST Exchanges and Tenants in Common Exchanges we would like to help you.
Client centered customer service, hard work and professionalism distinguish Corcapa 1031 Advisors from the marketplace.
Welcome to Corcapa 1031 Advisors, Inc.
1031 Exchange Advisors
Corcapa 1031 Advisors is a boutique alternative real estate advisory firm with an exclusive focus on the alternative real estate product.
As a 1031 Exchange Company, we specialize in 1031 Exchange Replacement Property in the form of Tenants in Common (TIC) / Delaware Statutory Trust (DST) Investments which are appropriate for 1031 tax deferred exchanges. Corcapa's goal in working with our clients is to find solutions which meet your investment objectives and defer capital gains taxes. 

Another unique area of our practice is sourcing direct investments (non-1031 eligible) that meet clients' financial needs and are positioned with the goal of projected income and projected appreciation.
Corcapa researches the marketplace of real estate syndications, perform due diligence on offerings, recognizing both the benefits and risks of all investments, and make recommendations to our clients based on their goals and risk tolerance. Investment size is broad at $25,000 to $25,000,000, as are our investors.
There are fewer than 100 alternative specialist advisors in the country (who do not manage stocks and bonds), and even fewer who offer the expertise and enthusiasm to help you diversify your portfolio with alternative real estate investments and 1031 Exchange Replacement Property.
Our Clients
Corcapa 1031 Advisors Serves Clients Throughout the United States
Corcapa 1031 Advisors has helped individuals in Alabama, Alaska, Arizona, Arkansas,California, Colorado, Connecticut, Delaware, Florida, Georgia, Hawaii, Idaho, Illinois, Indiana, Iowa, Kansas, Kentucky, Louisiana, Maine, Maryland, Massachusetts, Minnesota, Nebraska, Missouri, Montana, Nevada, New Hampshire, New Jersey, New Mexico, New York, North Carolina, North Dakota, Oklahoma, Ohio, Oregon, Pennsylvania, Rhode Island, South Carolina, South Dakota, Tennessee, Texas, Utah, Vermont, Virginia, Washington, West Virginia, Wisconsin, Wyoming and all across the country diversify their portfolio with alternatives.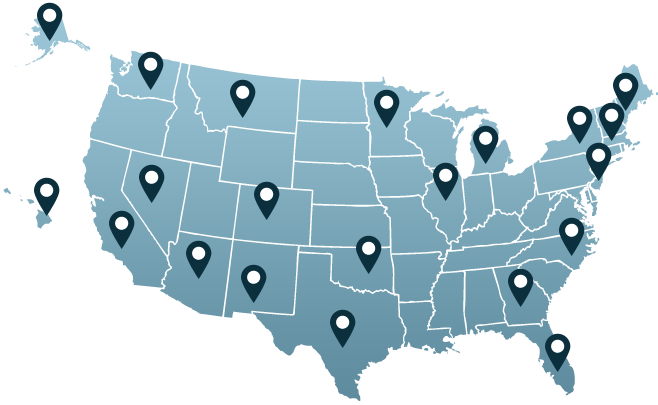 Investor Exchange Services
Corcapa 1031 Advisors specializes in replacement properties for clients' 1031 exchanges in the form of 1031 DST and 1031 TIC investments.
"I have personally completed over 400 fractional real estate transactions in excess of $200,000,000 in my twelve year career – making our firm one of the premier 1031 exchange into DSTs and TICs firms in the United States. We have clients in over 20 states."
– Christina Nielson, Corcapa 1031 Advisors President
Request Current DST 1031 and TIC 1031 Exchange Property List
To Receive a Listing of 1031 Exchange Offerings Please Fill Out This Form
Recently Funded 1031 Programs
A 218 unit gated, garden-style Class A apartment built in 2015.
Scottsdale, AZ

Investment Type: Multi-Family
First year projected lease payment as percentage of invested capital
(Cash on Cash): 5%
Fully Syndicated Value: $58,979,000
Equity Remaining: Fully Funded
Loan Amount: $32,804,000
Hold Period: 7-10 year
Total Equity/Beneficial Interests: $26,175,000
LTV: 55.6%
Occupancy: 94.81% for year 1
Minimum purchase 1031: $100,000; Accredited